Inter-server, Interserver Hosting Review 2023
Interserver has been around us for the past 21 years, and they're commonly known for their uptime and reliable support.
It has been considered a popular web hosting service provider due to its features, functionalities, and low prices. Inter-server has made plans so affordable that you get unlimited storage, transfer, email, and free SSL certificates and maintain up to 20 websites. So in this inter-server hosting review, I will be explaining the pros and cons of inter-server in detail.
Inter-server has considered a "budget-friendly" or "cheap hosting" provider. All the service plans are competitively priced.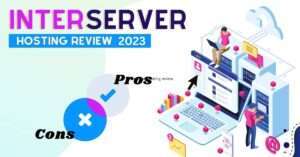 Quicky front end and ample support make InterServer a heartening provider, but the backend remains suspicious. Interserver hosting review brings you a comprehensive look at Inter-Server Hosting's pros and cons after signing up, paying for their hosting service, and then putting it to the test.
Let's dive into the detail Interserver hosting review
10 Pros Of Using Inter-Server Hosting
10 reasons why you should buy inter-server or interserver.net hosting?
Interserver Hosting is one of the best yet unnoticed hosting companies you might not know about, but should.
Let's explain to you in this detailed interserver hosting review.
Why?
Their speed is decent, customer service is highly supportive, security features are ample, and refund policy is highly liberal.
Let's take a detailed look at Interserver.net Hosting pros.
1. Exceptional Uptime – 99.97%
Delivery has always been an essential aspect of any service provider.
In the case of website hosting, delivery means making the site available; everything else comes after.
InterServer has clearly stated in its Service Level Agreement (SLA) that the network will be available 99.9% of the time in a given month. If they fail to meet the guarantee in a given month, they'll credit clients on a case-by-case basis.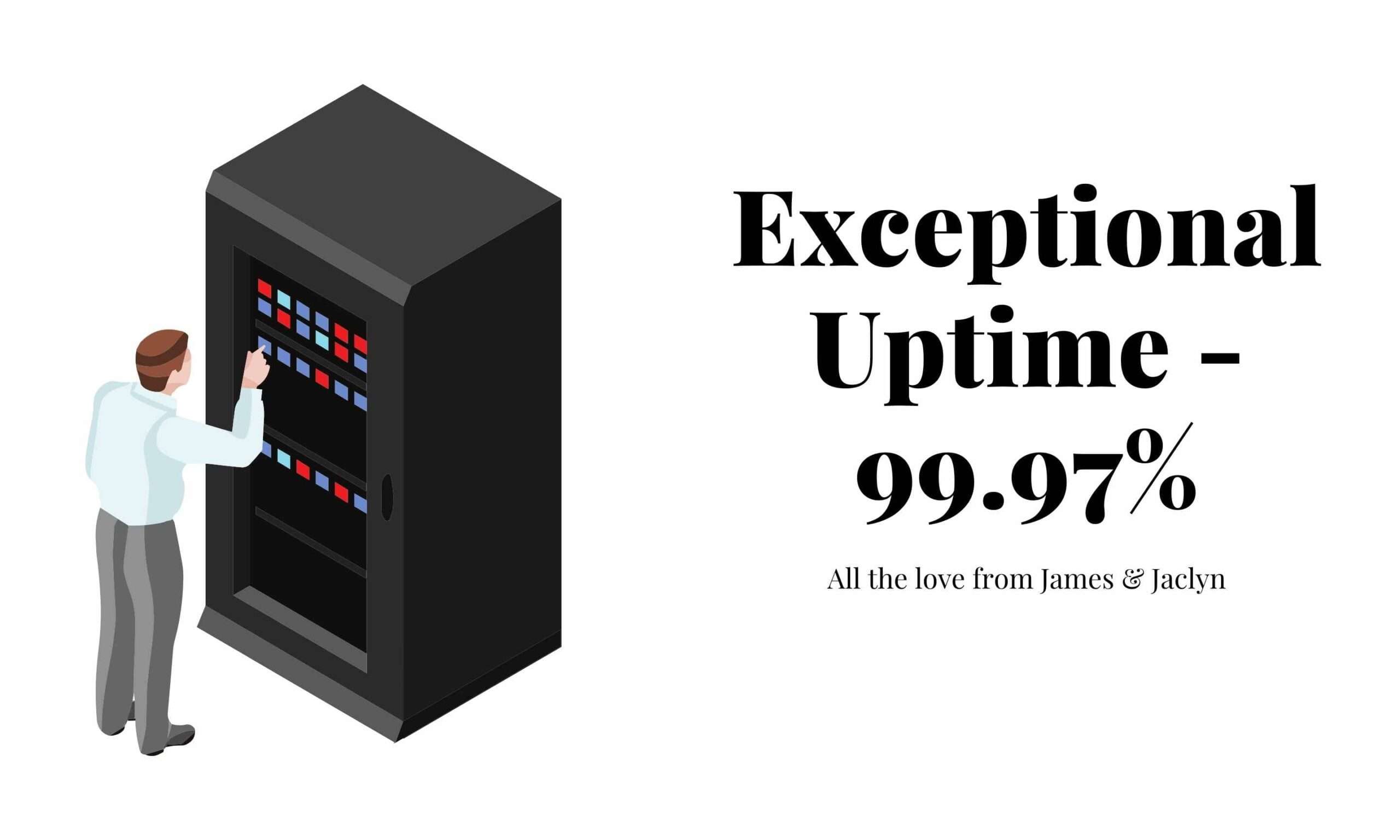 Apart from the uptime guarantee, InterServer also provides a 100% guarantee of uninterrupted electricity.
2. Insane

Speed
No doubt, speed plays a vital role in determining your online presence. Interserver is one of the speedy budget hosting services around.
In terms of speed, we noticed an average response time in the range of 400 milliseconds.
There are several months with average response times reaching toward 600-750 milliseconds.
Interserver is not as fast as some of its competitors like A2 hosting and Bluehost hosting, but it's still faster than other hosts.
3. Reasonable Support
Interserver.net aims to provide 24/7 technical support to its customer. Customers can reach via the InterServer Live Chat, support ticketing system, or telephone.
Their customer service team has won several awards for the quality of the tremendous service provided.
But if you are looking for a knowledge base service, then interserver not much more potent in that area.
4. Secure Infrastructure
Interserver aims to provide the utmost security for the customer's data. There, entire data centers cover through CCTV surveillance.
Each of their facility is heavily secured by security guards 24 hours a day, 365 days a year.
5. Price Lock Guarantee
Inter-server is exceptionally translucent about its pricing policy.
It is one of the major factor in the selling point of the company.
It promises its customers the same price till the very last. If you start with $5 per month, then you'll be paying the same amount 20 or 30 years down the road.
6. Allocated refunds
Interserver offers a standard 30-day money-back guarantee program.
If you are not satisfied with their web hosting plans, you can contact billing and ask for a refund for the period's remainder if you decide to cancel the service midway through its term.
Also read: How to cancel interserver membership?
7. Renewal cost
Most internet hosting service providers have an excessive renewal price policy, making it a bit costly to buy internet hosting. But the case is completely different with InterServer because it doesn't have excessive renewal charges, making the site significantly different from other hosting providers.
8. Free Migrations
Inter-server offers free migration services, which enables its customer to transfer effortlessly a website hosted elsewhere onto their inter-server account. Every migrated site is examined rigorously for malware, and if they find something wrong, then their experts improve it with precision.
9. An alternative approach to reliability
Most of the hosting sites run their servers at 100% capacity, causing slow speed and server crashes. But, InterServer maintains its servers at 50-55% capacity. As a result, customers have more resources at their end as compared to other shared hosting providers.
Therefore, InterServer limits the number of new customers to 100 a day to maintain this server capacity usage level. They took this initiative to provide the utmost satisfaction to all their customers.
10. Inter-insurance (Clean up the hacked sites at zero cost)
In the online world, Sites or blogs usually get hacked or blocked because of no updation to the latest updates.
When a website is hacked or blocked, web hosts usually charge a considerable amount to fix it or refer you to an external service.
But InterServer has introduced "INTER-INSURANCE." This policy states that they will clean up compromised, hacked, or exploited accounts for free.
10 Cons of Using Interserver Hosting
Indeed, Inter-server Hosting has many perquisites going for them, but we also found a few issues that are so important to bring to your notice.
List of 10 Cons of using inter-server hosting:
1. InterServer unlimited hosting is limited.
Indeed, for beginners, InterServer offers unlimited features in its shared hosting environments, but unlimited hosting does come with its limitations.
It's strict usage rules and terms bound users. Unlike many other hosts, InterServer gives users a distinct foray into what those limits are.
2. Interserver.net offers limited managed solutions
Indeed, InterServer does provide managed solutions, but most of the legwork regarding maintaining the VPS or dedicated servers has to be done by you. While these are low-cost plans, if you plan to switch to one of them due to a noteworthy increase in traffic, the savings might be offset by hiring a system administrator.
3. Host in the United State east coast only
InterServer operates on only a few data centers. If the maximum of your website traffic is non-U.S., you may need a content delivery network (CDN) to ensure that they can access your website rapidly.
4. Vps Hosting not or Newcomer or Non-engineer
InterServer usually does not bundle the usual software (like cPanel and Softculous) into their VPS plans – the initial setup process will be staggering for newcomers and non-techies who plan to switch to VPS hosting. The setup process is manual and took a long time.
5. Slower Speed
One of the significant drawbacks of inter-server hosting is that it gets slower when you use a server above capacity. Sometimes these load speeds could be as low as 1200 ms. Their average load speed of around 2000ms isn't so magnificent.
6. Frigid customer support
Most of the time, InterServer customers are satisfied with customer support. But there are times where customers have experienced remarkable delays with getting their issues resolved. That's because of the unorganized structure.
7. Free Domain not included
Yes, It does offer a domain name facility but not for free.
To get a domain name from Interserver.net, you will have to pay the amount.
InterServer offers the domain name at a discount. Usually, you have to pay $4.99 – $15 for a domain name for one year using a service like GoDaddy & Namecheap. With InterServer, you're paying about $8.
I highly recommend you buy a Domain from Godaddy or Namecheap.
However, there is a catch. You will pay $8 only if you sign up with inter-server long-term plans. If you want to sign up for the monthly list, you will have to pay more. For example, buying a .com domain would cost you $11.00 on a monthly schedule.
8. Limited services
Interserver restricts the number of customers who can sign up for every service. If you plan to sign up, then run right away, and sign up for Interserver. If 100 customers have already signed up for the particular plan you're looking for, then you'll have to wait another day. That isn't very pleasant, but this is their terms and condition, so we have to accept it.
9. Additional Charge For C-panel
Suppose you are planning to buy a shared plan. In that case, there is no uptime guarantee, and the interserver does charge an additional amount for the addition of a cPanel with your VPS hosting plan or dedicated hosting solution.
10. The uptime Gurantee is or limited Plans
It has different plans for different customers. So the uptime guarantee plan is for limited programs only.
Do We Recommend InterServer?
Yes! We do.
With InterServer, you get a safe and secure host. Besides, added free perquisites like exceptional uptime and price lock guarantee make the inter-server unique. Moreover, InterServer has shown considerable page load time.
While the domains are not free, InterServer still offers them at a decent discount, so it's not going to make too much distinction.
A much more significant downside to consider is their limited managed solution and frigid customer support.
We hope that you like the detailed inter-server hosting review.
P.S. Have you ever used Interserver Hosting before? Please consider leaving a review below — good or bad — doesn't matter as long it's helpful to our visitors. Thanks for your support.